Consultant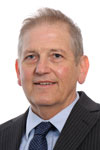 David has been working in the financial services industry for more than 40 years, during which time he has been responsible for accounting functions within several firms and has acted as a consultant for many clients.
David has attended specific training for the roles and responsibilities of a Compliance Officer and Money Laundering Reporting Officer and has extensive knowledge of the obligations upon firms and their regulatory requirements.
David also has experience of senior management responsibilities within a regulated firm and, prior to joining Gallium, was responsible for the management of over forty collective investment schemes.